Outline
Tohoku University marked its Foundation Day 100th Anniversary by celebrating its Centenary in 2007: it now takes big leaps into the next 100 years by positioning the Aobayama New Campus Development as momentum for accomplishing development as an Integrated University and establishing Global Excellence.
The Amamiya Campus and sections of Katahira Campus moved in September of 1994 to the Aobayama New Campus with decisions to establishing an Educational/ Research Environment which satisfies and demonstrates the functions of an Integrated University.
Considering correspondence of internationalization, and the layout and functional relation of the existing and new campus ("Triangle Vision"); the university establishes and creates a distinguished educational/research environment designated to bring about the emergence of new academic and industries areas. It aims to best utilize the rich and natural environment of Aobayama which is also a familiar symbol to its citizens as the "City of Trees, Sendai", thus establishing an "Environmental-Harmony-Campus".
Location
 468-1, Aramaki-aza-aoba, Aoba-ku, Sendai 980-8578 , Japan
Relocation Department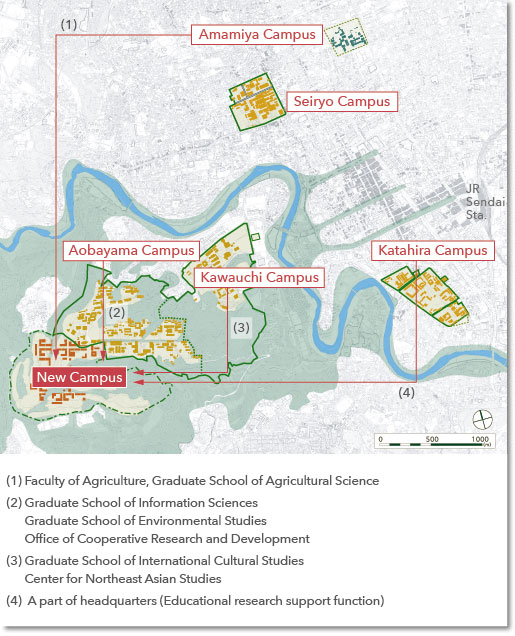 Faculty of Agriculture, Graduate School of Agricultural Science, Graduate School of Information Sciences, Graduate School of Environmental Studies, Graduate School of International Cultural Studies, Center for Northeast Asian Studies, International Research Institute of Disaster Science, Office of Cooperative Research and Development, and a part of Administration (Educational Research Support Function).
Area
About 81ha (814,123.30sqm)
Facilities
Floor space : About 200,000sqm
Planned Population
About 5,500 people
- educational/research facilities, etc : about 4,800 people
- Science Park : about 700 people