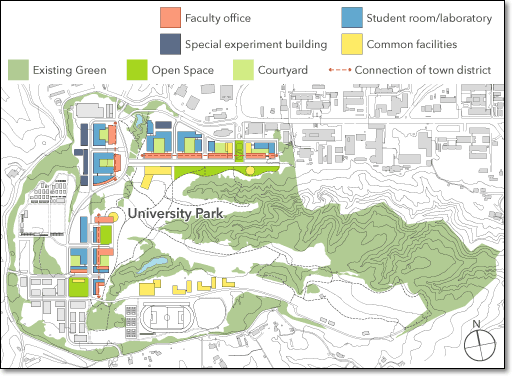 ^ Function arrangement within the facilities
Promote In-Campus Cooperation & Exchange, in green environment and in a functional layout
Facilities are arranged to "incorporate the framework of other departments" and promote exchange and cooperation between departments. Moreover, "Overall use and unified management" are set principle for the In-Campus Cooperation & Exchange. In addition, the building of research and experiments are incorporated in functional layout planning and high density to be secured appropriately for future expansion sites.

The faculty office is concentrated to face the University Park which results in a fine view from the rooms while enhancing the exchanges between blocks. The student research/experiment laboratories face the rich green roadside and courtyard. Special experiment building, etc. are arranged along the service road for improvement of convenience.

The common facilities (such as restaurant, library and etc.) built in the University Park are planned to blend in lavishly with its rich natural surroundings. In addition, around the Station Plaza, shops and these facilities are anticipated to create liveliness and aimed at maintaining.