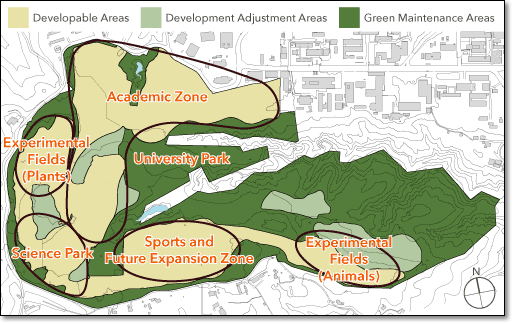 ^ Developable Areas and Land Use Zones
Campus Development: mainly in the fairway areas of the former golf course
Only the fairway flat land areas of the former golf course are set aside for development and the building lots to restrain to its minimum. Moreover, the southeast of the New Campus and around the Hill Top remains as an Adjustment Development Area, for careful future use.
The zones surrounding the University Park Area
The central area around the Tatsunokuchi ravine makes up the University Park which is opened to the public and maintained as a symbol of the university; it is designed to be surrounded by a "Academic Zone", "Science Park", "Sports and Future Expansion Zone" and "Experimental Fields."

●University Park
The "University Park" area, includes the preservation green land area of the Tatsunokuchi ravine, and is located in the central new campus. The Open Natural Environment Park harmonizes with open space, the strolling roads in addition to a sports field etc. which provide enjoyment to the public.

●Academic Zone
The "Academic Zone" is composed of three geographical areas: the Central Area, West Area and Upper Area, located in the north and west side of University Park. Considering its continuity of existing Aobayama Campus buildings, educational/research facilities and common facilities are built in these zones mainly.

●Science Park
The "Science Park" area, located in the southwest of New Campus, keeps its independence, while at the same time adjoining the Academic Zone.

●Sports and Future Expansion Zone
The "Sports and Future Expansion Zone", located in the flat land area south of New Campus. A Gym, Tennis courts, Track and Sports field, multipurpose playground are arranged in Sports Zone, moreover, are planned to be opened to the public.

●Experimental Fields
The "Experimental Field" includes a plant facility, an animal facility, and other closely related facilities. Due to functional linking with the Academic Zone and considering obvious stench problems, the plant facility is arranged west of Academic Zone and the animal facility is arranged east of "Sports and Future Expansion Zone."