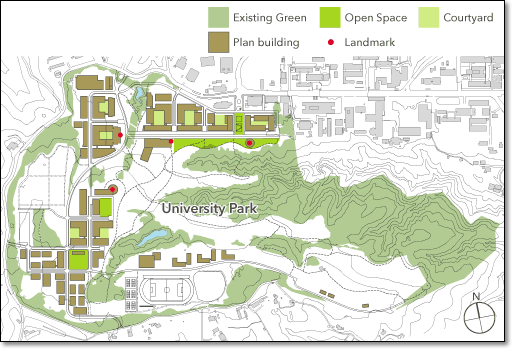 ^ Facility Site Policy
Facilities Site Policy for enjoying rich natural environment
The New Campus facilities which surround the University Park and are arranged in order for the people to enjoy its rich and natural environment. Facility construction are planed at 4-5stories in height with a structure consistency friendly to its surroundings. In addition, in high density areas, courtyard will be created with in each block for a more favorable environment with nature. These Facilities Site Policies anticipate the possible construction to about 270,000㎡ at its maximum in the New Campus Development Area.
A Campus Landmark :Symbol of Pride, Respect and the Birth of Honor
Distinguished landmarks are erected, in various places on campus, to changes the scenery while building upon the ideals of students/faculty's pride and devotion.