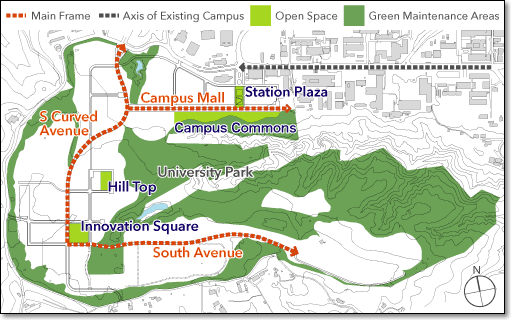 ^ The road framework and open space of the campus
Three roads become the road framework of the campus
The Main Road runs from the east to west through the existing Aobayama Campus and parallel to it is the "Campus Mall." The central location and road of the New Campus. Moreover, "S Curved Avenue" which uses the geographical features of valley runs from the north to south and "South Avenue" is to be built. Streets constructed to intersect the main roads orthogonally are planned to be built by about hundred meters apart in order to create a moderately divided block.
Open space - a place for various gatherings and exchange
The open space creates a favorable environment for maintaining the basic framework of the New Campus "Station Plaza," "Campus Commons," "Hill Top" and "Innovation Square."